Prediagnostic enterolactone levels linked to lower BC mortality
Posted: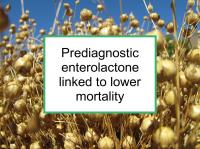 Prediagnostic enterolactone linked to survival
A new study has reported that higher levels of
enterolactone
are associated with reduced mortality among postmenopausal breast cancer patients. Enterolactone is a
phytoestrogen
metabolite of plant
lignans
derived from a variety of foods such as seeds, whole grain products, and some fruits and vegetables.
While previous laboratory and population studies have suggested that enterolactone influences biological mechanisms that may retard breast cancer development, this is the first study to evaluate whether levels of enterolactone are linked to mortality among breast cancer patients.
The study included 24,697 postmenopausal women enrolled in a Danish population study between 1993 and 1997. A total of 424 of the women developed breast cancer before year-end 2000. Enterolactone levels were measured in baseline blood samples taken before diagnosis and related to risk of death.
During a median period of 10 years after breast cancer diagnosis, 111 of the 424 women died (80 from breast cancer). Women with enterolactone levels above the median were found to have a 53% lower risk of death from any cause and a 44% lower risk of death from breast cancer than women below the median. The authors conclude that higher prediagnostic plasma levels of enterolactone are related to lower mortality among breast cancer patients.
Please see our article on how to optimize your breast cancer diet for information on what to eat during all stages of treatment and recovery.
Selected breast cancer studies
Mammalian Lignan Formation in Rats Fed a Wheat Bran Diet

Cite

Nicolle C, Manach C, Morand C, Mazur W, Adlercreutz H, Rémésy C,

et al

. Mammalian Lignan Formation in Rats Fed a Wheat Bran Diet. Journal of Agricultural and Food Chemistry. American Chemical Society (ACS); 2002; 50:6222-6226

10.1021/jf020208z

Lignans and breast cancer risk in pre- and post-menopausal women: meta-analyses of observational studies

Cite

Velentzis LS, Cantwell MM, Cardwell C, Keshtgar MR, Leathem AJ, Woodside JV. Lignans and breast cancer risk in pre- and post-menopausal women: meta-analyses of observational studies. British Journal of Cancer. Springer Science and Business Media LLC; 2009; 100:1492-1498

10.1038/sj.bjc.6605003

Dietary lignans and postmenopausal breast cancer risk by oestrogen receptor status: a prospective cohort study of Swedish women

Cite

Suzuki R, Rylander-Rudqvist T, Saji S, Bergkvist L, Adlercreutz H, Wolk A. Dietary lignans and postmenopausal breast cancer risk by oestrogen receptor status: a prospective cohort study of Swedish women. British Journal of Cancer. Springer Science and Business Media LLC; 2008; 98:636-640

10.1038/sj.bjc.6604175