Risk of second primary breast cancer highest in ER-/PR- survivors
Posted: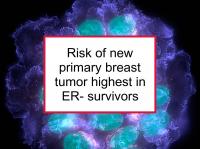 Risk of new primary breast tumor highest in ER-
A new study has reported that women with
hormone receptor negative
first tumors are at higher risk of second primary breast tumors than those with hormone receptor positive disease whereas
HER2
receptor status does not appear to influence risk of such recurrence. However, the risk appears to vary by ethnicity.
The study was designed to examine the association between receptor status and risk of a second breast cancer. Hormone receptor (estrogen receptor (ER) and progesterone receptor (PR)) and HER2 receptor status of breast tumors are important determinants of treatment decisions and treatment may reduce risk of
locoregional recurrence
(i.e., recurrence in the breast, chest wall, or lymph nodes).
Study design
To conduct the study, the authors analyzed data concerning 106,331 women in the California Cancer Registry whose first cancer was locoregional invasive breast cancer diagnosed between 1999 and 2005. A total of 1,613 second primary breast cancers (i.e., diagnosed subsequent to primary treatment for the original breast tumor) occurred among the women.
Study results
Among non-Hispanic whites, having a hormone receptor positive (
ER+/PR+
) first tumor was found to be associated with a 17% lower risk of being diagnosed with a second breast cancer, whereas hormone receptor negative (ER-/PR-, which includes
triple negative
disease (ER-/PR-/HER2-)) status was associated with a 48% higher risk.
African Americans
,
Latinas
and
Asian/Pacific Islanders
were found to be at increased risk of second breast cancers regardless of hormone receptor status of the first tumor.
Latinas with hormone receptor negative first tumors were at twice the risk of such recurrence than those with hormone receptor positive disease. HER2 status was not found to influence risk of second tumors in the ethnic groups examined.
The authors conclude that hormone receptor status of a first breast cancer is a marker for risk of a second breast cancer whereas HER2 status does not appear to be such a marker. Risk differences across ethnic groups by hormone receptor status suggest dissimilarities of breast cancers depending on ethnicity.
Selected breast cancer studies