Iron protects breast cancer cells from natural killer cells
Posted: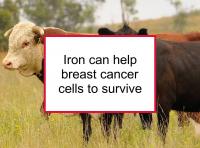 Iron can help breast cancer cells to survive
While several studies have reported a link between high iron levels and increased breast cancer risk, iron deficiency also appears to promote breast cancer in some circumstances. Based on the available evidence to date, adequate but not high or dangerously low levels of iron appear to be best. Note that many women undergoing chemotherapy develop anemia, which can result in severe complications and interfere with the ability to complete treatment in a timely manner. Women undergoing breast cancer treatment should follow the recommendations of their oncology teams with respect to the prevention and treatment of anemia.
Sources of iron
Latest research finds iron protects breast cancer cells from natural killer cells
Natural killer cells were found to increase the synthesis and release of NO and TNFα into the cell culture medium when co-cultured with both types of breast cancer cells. Addition of iron was found to inhibit the cytolysis of the breast cancer cells; iron reversed the cytotoxicity induced by NO. On the other hand, the iron chelator deferoxamine (DFOM) was shown to increase killer cell cytolysis. The authors conclude that increased iron in breast cancer cells and their microenvironment protects them from natural killer cell cytolysis.
Selected breast cancer studies