Dietary folate linked to reduced risk of ER- recurrence
Posted: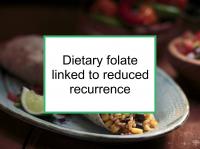 Dietary folate linked to reduced recurrence
A new Swedish study has reported that dietary
folate
intake is associated with reduced risk of breast cancer recurrence, especially among women with estrogen receptor negative (ER-) tumors. The study was designed to investigate the association between dietary folate intake and survival after a diagnosis of breast cancer.
Folate is thought to influence breast cancer development and progression. However, population studies on the relation between folate and breast cancer survival are limited. The study included 3,116 women in the population-based Swedish Mammography Cohort who were diagnosed with breast cancer. The women filled out a 67-item food frequency questionnaire in 1987 and were followed through 2008. A total of 852 deaths, including 381 from breast cancer, occurred during follow up.
Study findings
Dietary folate intake was found to be inversely associated with death from any cause and breast cancer-specific death. Women in the highest fourth of folate intake were found to have a 21% lower risk of death from any cause compared to those in the lowest quartile. These women also had a 22% lower risk of death from breast cancer, however this result did not reach statistical significance.
However, a stronger protective association between dietary folate intake and breast cancer death was found among those with ER- tumors, who had a 58% lower risk of death, again comparing those with the highest to the lowest quartile of dietary folate intake.
Author conclusions
The authors conclude that dietary folate intake before breast cancer diagnosis may improve breast cancer and overall survival. While these findings need to be confirmed in future studies, they do offer assurance that dietary folate intake at the levels observed in the Swedish population does not unfavorably affect survival after breast cancer, according to the authors.
Please see our article on how to optimize your breast cancer diet for information on what to eat during all stages of treatment and recovery.
Selected breast cancer studies