Black cumin increases the effectiveness of many BC treatments
Posted: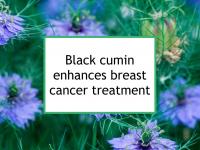 Black cumin enhances breast cancer treatment
In addition to its role as a spice, black cumin has traditionally been used to treat various diseases, including fever, intestinal problems, diabetes, asthma and cancer.
Breast cancer effects of black cumin
Additional comments
Although black cumin seed oil is available as a supplement, we do not recommend it. The safety of this more concentrated source of thymoquinone has not been established. Like other compounds with anti-cancer effects found in food, we favor using thymoquinone at the relatively low dose available in black cumin seeds rather than attempting to obtain pharmacological effects from a higher dose.
Selected breast cancer studies