Black cumin enhances Adriamycin toxicity and reduces cardiomyopathy
Posted: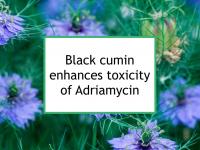 Black cumin enhances toxicity of Adriamycin
Although black cumin seed oil is available as a supplement, we do not recommend it. The safety and effectiveness of this more concentrated source of thymoquinone has not been established. Like other compounds with anti-cancer effects found in food, we favor using thymoquinone at the relatively low dose available in black cumin seeds rather than attempting to obtain pharmacological effects from a higher dose.
Latest research finds black cumin potentiates Adriamycin chemotherapy
The study referenced above was designated to evaluate the role of Adriamycin (doxorubicin) and thymoquinone nanomatrices in potentiating the cytotoxicity of these drugs, alone or in combination. A nanomatrix chemically links two or more components, in this case in F2 gel. F2 gel is a fully-acetylated poly-N-acetyl glucosamine nanofiber which appears to improve the cellular uptake of certain treatments. The authors also sought to determine the ability of thymoquinone to reduce the cardiotoxicity of Adriamycin in solid Ehrlich carcinoma-bearing mice. Ehrlich solid tumor was used as an experimental model for breast cancer in this study.
Adriamycin and/or thymoquinone were loaded into F2 gel. The study included 80 female albino mice, in most of whom solid Ehrlich carcinoma was induced. The mice were randomly assigned to one of eight groups: (1) control (no tumor); (2) tumor control (tumor bearing without treatment); (3) F2 gel (tumor bearing with F2 gel without any Adriamycin or thymoquinone treatment); (4) free Adriamycin (tumor bearing with conventional Adriamycin treatment); (5) Adriamycin + F2 gel (tumor bearing with F2 loaded with Adriamycin); (6) free thymoquinone (tumor bearing with conventional thymoquinone treatment); (7) thymoquinone + F2 gel (tumor bearing with F2 loaded with thymoquinone); and (8) Adriamycin + thymoquinone + F2 gel (tumor bearing with F2 loaded with both Adriamycin and thymoquinone).
The authors conclude that use of thymoquinone in combination with Adriamycin could improve Adriamycin's cytotoxic effects and limit its cardiac toxicity. In addition, the authors note that loading Adriamycin and/or thymoquinone into F2 gel produces even more heightened anti-cancer activity.
Selected breast cancer studies