Aspirin reduces growth and self-renewal capacity of BC stem cells
Posted: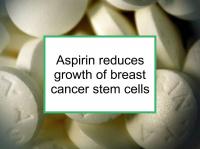 Aspirin reduces BC stem cell growth
In addition, regular aspirin use has potentially serious side effects, including gastrointestinal bleeding, hemorrhagic stroke, and age-related macular degeneration.
Aspirin is preferable to other over-the-counter pain medications
Latest research explains anti-metastatic action of aspirin
The study referenced at the beginning of this news story was designed to investigate how aspirin prevents breast carcinogenesis and metastasis. Limited knowledge as to the mechanism of action of aspirin has colored the debate of the possible risks and benefits of using aspirin for breast cancer prevention and treatment. The authors used cell studies and animal models to investigate the beneficial effects of aspirin in breast cancer.
Aspirin was also shown to regulate other events in breast cancer development. Aspirin reprogrammed the mesenchymal to epithelial transition (MET). (Mesenchymal cells are able to develop into the tissues of the various tissues throughout the body. MET is a process that converts mesenchymal cells to epithelial cells.)
Aspirin also delayed breast cancer cell migration. The authors hypothesize that the tumor growth inhibition and reprogramming effects of aspirin could be the result of inhibition of TGF-β/SMAD4 signaling pathway. This pathway is associated with growth, ability of cells to move, invasion, and metastasis in advanced breast cancer.
The authors conclude that aspirin has the potential to prevent or treat breast cancer through its ability to attack possible targets such as TGF-β in breast carcinogenesis.
Selected breast cancer studies