Asian-American women have higher rates of HER2+ breast cancer
Posted: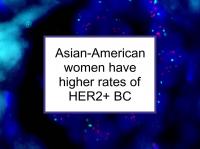 Asian-American women have more HER2+
A new study has reported that ethnically Asian women in California have higher rates of
HER2 overexpressing
breast cancer than the non-Hispanic white population and that this rate is especially high among Korean women. Breast cancer subtype has been reported to vary by ethnicity, underscoring the relevance of genetic and cultural factors in breast cancer risk.
The study was designed to determine distributions of breast cancer subtypes among six Asian groups in California using data from the California Cancer Registry. A total of 8,140 Chinese, Filipina, Japanese, Korean, South Asian, and Vietnamese women who were diagnosed with invasive breast cancer between 2002 and 2007 were included, as well as a group of white women for comparison purposes.
Breast cancer subtypes were defined for purposes of the study as (1)
hormone receptor positive
(estrogen receptor positive (ER+) and/or progesterone receptor-positive (PR+), and human epidermal growth factor receptor 2-negative (HER2-)); (2)
triple negative
(ER-, PR-, and HER2-); or (3) HER2-positive (ER+ or ER-, PR+ or PR-, and HER2+).
Compared to non-Hispanic white women, Korean women were found to have an 80% higher risk of HER+ breast cancer, Filipina and Vietnamese women had a 30% higher risk, and Chinese women had a 10% higher risk. The results took into account age, breast cancer stage, grade, histology, socioeconomic status, year of diagnosis, hospital, and country of birth.
The authors conclude that there exist significant ethnic variations in the rates of HER2-positive breast cancer among Asian-Americans.
Selected breast cancer studies