Arugula compound erucin inhibits proliferation of ER+ BC cells
Posted: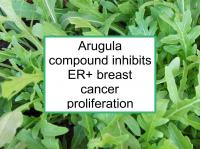 Arugula inhibits ER+ breast cancer proliferation
Cruciferous vegetable intake is associated with reduced breast cancer risk
Sources of isothiocyanates
Latest research finds erucin inhibits breast cancer cell proliferation
The study referenced at the beginning of this news article was designed to investigate the cancer preventive actions of erucin (1-isothiocyanato-4-(methylthio)butane). Erucin is an isothiocyanate that is structurally and metabolically and related to sulforaphane. The most abundant sources of erucin are arugula, kohlrabi and Chinese cabbage. Erucin's mechanism of action in preventing cancer has until now been poorly understood.
In the study, the authors found that erucin inhibits proliferation of ER+/PR+ MCF-7 breast cancer cells by means of cell cycle arrest at mitosis and subsequent apoptosis (programmed cell death). The mechanism of action is consistent with impairment of microtubule dynamics. Further analysis demonstrated that erucin suppressed the required dynamic instability of microtubules during interphase (the main portion of the cell cycle during which the cell is not dividing but is preparing for the next cellular division). Most measures of dynamic instability were found to be inhibited by erucin.
Selected breast cancer studies