Increasing aromatase inhibitor side effects make tamoxifen attractive
Posted: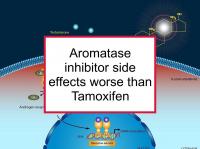 Aromatase inhibitor side effects may be worse
Longer duration of aromatase inhibitor use was found to be associated with increased risk of developing bone fractures and cardiovascular disease, but a lower risk of uterine cancer and blood clots. This conforms to previous findings that tamoxifen increases the risk of uterine cancer and blood clots. Five years of treatment with aromatase inhibitors was associated with a tendency toward increased risk of non-breast cancer specific death compared to five years of tamoxifen alone or tamoxifen for two to three years followed by an aromatase inhibitor for two to three years, but this result was not statistically significant. The authors conclude that the cumulative toxicity of aromatase inhibitors when used as up-front treatment may explain the lack of overall survival benefit compared to tamoxifen despite improvements in breast cancer-free survival. Switching from tamoxifen to aromatase inhibitors reduces this toxicity and is likely the best balance between efficacy and toxicity, according to the authors.
Selected breast cancer studies