Genistein could reduce treatment effects of Adriamycin in ER+/PR+ BC
Posted: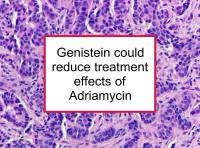 Genistein could impair Adriamycin treatment
One of the most consistent findings is that Asian women with relatively high soybean intake in childhood appear to be somewhat protected against breast cancer in adulthood. However, a major Chinese prospective study recently reported that while high soy intake during adolescence and adulthood was associated with reduced premenopausal breast cancer risk, high adulthood soy intake was associated with reduced postmenopausal breast cancer risk only when adolescent intake was low.
However, despite the conflicting and confusing results of many soy-related studies, we cannot afford to ignore results suggesting that genistein can be harmful in some circumstances. The study described below is one such study.
Latest research finds genistein could induce multidrug resistance
Genistein was found to cause induction of ABCC1 and ABCG2 in MCF-7 cells and of ABCC1 in MDA-MB-231 cells. There was a concomitant increase in Adriamycin and mitoxantrone (sometimes used to treat metastatic breast cancer) resistance in MCF-7 cells, which was a result of ABCG2 activity. The genistein-caused induction of ABCC1 in MDA-MB-231 cells did not modify chemoresistance since it was offset by simultaneous strong inhibition of transporter activity by genistein. ABC transporter protein increase was shown to be prevented by cycloheximide, an inhibitor of protein biosynthesis. These effects were not directly dependent on estrogen receptors. The authors conclude that the results suggest potential genistein-drug interactions that could threaten chemotherapy efficacy, especially in ABCG2-expressing tumors treated with substrates of this transporter.
Selected breast cancer studies