Exposure to cadmium reduces effectiveness of tamoxifen
Posted: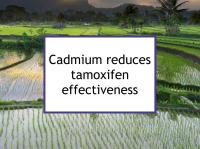 Cadmium reduces tamoxifen effectiveness
Non-dietary sources of cadmium exposure
Dietary sources of cadmium
Diet is the primary source of cadmium exposure for most U.S. women. Both developed and less developed countries have problems with cadmium contamination of coastal waters, leading to potentially high levels in shellfish. In addition, there are large areas of some countries, including the U.S., Canada and China, in which significant levels of cadmium are found naturally in the soil. Certain plants take up and incorporate cadmium more readily than others. Included are rice and other cereal grains, flaxseed, potatoes, sunflowers, peanuts, spinach and other leafy vegetables, and tobacco. Generally speaking, cooking is not effective in reducing cadmium concentrations in food.
Latest research finds cadmium interferes with tamoxifen treatment
The study referenced above was designed to investigate the relationship between environmental exposure to cadmium and the Warburg effect in breast cancer, thereby explaining cadmium's possible interference with breast cancer treatment. The authors also examined the influence of cadmium on treatment with tamoxifen.
The Warburg effect is a form of deviant energetic metabolism whereby the rate of glucose uptake is significantly increased. Together with activation of key proliferative and survival signaling pathways, the Warburg effect plays a critical role in tumorigenesis, suggesting that compounds targeting key proteins involved in the Warburg effect could act as cancer treatment.
The authors performed an observational study, using two groups of breast cancer patients, which found a link between urinary cadmium levels and tumor expression of HIF1A (a key regulator of the Warburg effect). However, further studies using ER+/PR+ MCF-7 breast cancer cells failed to confirm that cadmium exposure had an influence on molecular and biochemical markers of the Warburg effect.
On the other hand, long-term exposure to a low and environmentally relevant concentration of cadmium led to its accumulation in ER+/PR+ cells and reduced their sensitivity to tamoxifen. The authors conclude that an association between cadmium and the Warburg effect was suggested in their observational study, while not confirmed in cell studies. However cadmium appears to interfere with tamoxifen treatment, a finding which deserves further study since it implies resistance to hormone therapy.
Selected breast cancer studies