Blueberry and ginger compounds enhance Taxol treatment effects
Posted: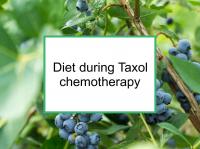 Blueberry and ginger increase Taxol effects
Breast cancer stem cells can exist in a quiescent state, thereby avoiding being eliminated by chemotherapy or radiation treatment. This contrasts with regular breast cancer cells which typically remain in an actively dividing state, which exposes them to the cytotoxic effects of such treatments.
Chemotherapy and stem cells
Latest study finds 6-gingerol, 6-shogaol, & pterostilbene act against BC stem cells
The study referenced at the beginning of this news story was designed to examine that cytotoxic effects of five phytochemicals (6-gingerol, 6-shogaol, 5-hydroxy-3,6,7,8,3',4'-hexamethoxyflavone, nobiletin, and pterostilbene) on hormone receptor positive (ER+/PR+) MCF-7 breast cancer cells and breast cancer stem cells. The authors found that 6-gingerol, 6-shogaol, and pterostilbene selectively killed breast cancer stem cells. In particular, these three photochemicals had high sensitivity for cells isolated from the MCF-7 population that expressed the surface antigen CD44+/CD24-, a stem cell marker. 6-shogaol and pterostilbene were shown to induce membrane injury and bleb formation (a bulge caused by a weak spot through which cytoplasm can flow), both signs of cell necrosis, in breast cancer stem cells, as well as inhibiting the mammosphere formation typical of such cells.
Selected breast cancer studies