Ginger compound induces triple negative breast cancer cell death
Posted: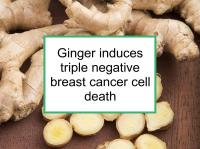 Ginger induces triple negative breast cancer cell death
Latest research finds gingerol reduces breast cancer growth
The study referenced above was designed to compare the effectiveness of [10]-gingerol with [8]-gingerol and [6]-gingerol in inhibiting the growth of human breast cancer and mouse mammary tumor cells. Ginger contains several bioactive gingerols, however most cancer-related research has focused on [6]-gingerol.
Study design and results
Further experimentation demonstrated that [10]-gingerol's growth inhibitory effect on triple negative cells was associated with reduced cell division and increased apoptosis (programmed cell death). Surprisingly, the cytotoxic effect of [10]-gingerol did not appear to depend on accumulation of reactive oxygen species.
The authors conclude that further investigation of [10]-gingerol for possible use in breast cancer treatment is justified.
Selected breast cancer studies