Patterns of BC in Black women suggest mammograms should start in 40s
Posted: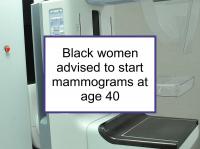 Black women should start mammograms at age 40
In the study, the authors analyzed data in the California Cancer Registry concerning 375,761 invasive breast cancers that were diagnosed from 1988 to 2006. The results were categorized according to age and the following ethnicity groupings: white (non-Hispanic white), Latina (Hispanic), and African American (non-Hispanic black). Breast cancer stage at diagnosis and rates of triple negative breast cancer also were analyzed. Data for 276,938 white women, 77,142 Latinas, and 21,681 African-American women was included.
Latinas (median age at diagnosis: 54 years) and African Americans (57 years) tended to be younger than whites (64 years) at diagnosis. While whites were more likely to develop breast cancer than African Americans and Latinas during their lifetimes, when only data for women younger than 44 was analyzed, the incidence rate was highest for African-American women. African Americans also had higher rates of stage III and stage IV disease at diagnosis (when prognosis is far less favorable than earlier stage disease) and a higher incidence of triple negative breast cancer at all ages.
The study results suggest that mammographic screening for the early detection of breast cancer may be particularly important for African-American women in their forties.
Selected breast cancer studies