Some sunscreen compounds can increase BC cell migration and invasion
Posted: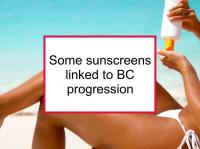 Some sunscreens linked to BC progression
Latest research finds sunscreen compounds increase metastatic spread
These results imply that the heightened migratory activity was not restricted to estrogen-responsive cells. In fact, the molecular mechanisms varied between compounds and cell lines. The authors conclude that exposure to any of these six compounds can increase migration and invasion of breast cancer cells.
Selected breast cancer studies