BC surgery should not be omitted in relatively healthy older women
Posted: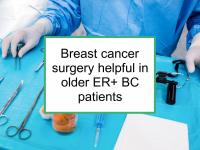 Breast cancer surgery helpful in old patients
However, breast cancer-specific survival is not as favorable in this population as would be expected given the more indolent characteristics of the disease.
Treatment of breast cancer in old women often differs from the standard of care. Treatment choices are influenced by the perceived lack of aggressiveness of the disease and the presence of other medical conditions or frailty. However, this can lead to under treatment of some women who could benefit from standard treatment. Treatment decisions should be made on an individual basis, taking into account tumor characteristics and overall health. The healthier the woman, the more she might have to gain from appropriate treatment.
Latest research finds omitting surgery leads to less favorable outcomes
The study referenced at the beginning of this news story was designed to evaluate the effectiveness of endocrine therapy alone in older women with operable breast cancer. Study participants were at least 70 years old and healthy enough to have undergone surgery. To conduct the study, the authors performed searches of the Cochrane Breast Cancer Group's Specialized Register, the Cochrane Central Register of Controlled Trials, MEDLINE, EMBASE, the World Health Organization's International Clinical Trials Registry Platform and www.clinicaltrials.gov for relevant studies. The studies included in the analysis met eligibility and quality criteria. In each case the endocrine therapy used was tamoxifen. Data concerning 1,571 women (1,081 deaths) was extracted from the published trials to conduct the meta-analysis.
The authors conclude that endocrine treatment without surgery should only be offered to women with ER+ diseases who are generally unfit for surgery, at increased risk of serious complications if subjected to surgery, or who refuse surgery. However, in ER+ women with significant medical conditions or diseases in addition to breast cancer, endocrine therapy alone may be the best option. The authors also comment that further studies are needed to evaluate the effectiveness of aromatase inhibitors as primary therapy for an infirm older women with ER+ tumors.
Selected breast cancer studies