Too much vitamin D can reduce bone density
Posted: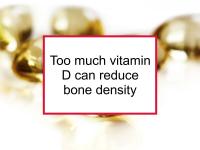 Too much vitamin D can reduce bone density
Numerous studies have reported that vitamin D3 deficiency is associated with increased breast cancer risk whereas adequate to high levels appear to protect against breast cancer and its recurrence. Please see our article on
vitamin D
for a more extensive discussion of vitamin D and its impact on prognosis.
The blood test for vitamin D measures the level of 25-hydroxyvitamin D (25(OH)D), which is the primary metabolic product of vitamin D3 in the blood. Based on available evidence, the optimal 25(OH)D level for breast cancer prevention appears to be at least 40 ng/mL (40 to 50 ng/mL may be an appropriate target range). Given that few U.S. women get adequate vitamin D from sun exposure and food, supplementation with vitamin D3 is appropriate for many.
Current recommendations of 600 to 1000 units of vitamin D3 per day may not be enough to achieve a 25(OH)D level of 40 ng/mL in a reasonable period of time. Also, some health practitioners advocate levels of 25(OH)D far above 40 ng/mL as optimum for health or cancer prevention. As a result, some are advocating high-dose vitamin D regimens, with levels from 10,000 to as high as 40,000 units per day.
Such elevated levels have not been shown to be more effective for breast cancer prevention or treatment. In addition, concerns have been raised regarding possible side effects, each of which are the subject of considerable controversy. For example, one study reported that individuals with 25(OH)D levels above 100 ng/mL are at increased risk for atrial fibrillation (AF, a type of irregular heartbeat). However, this finding is not well established.
Now a new study has reported that high‐dose vitamin D supplementation can reduce
bone density
, especially in women. Since,
aromatase inhibitors
can result in bone loss, this finding is especially relevant to breast cancer patients undergoing such treatment.
Latest research reports link between high dose vitamin D and BMD loss
The study referenced above was designed to continue an investigation into the impact of vitamin D supplementation on bone density and strength. To conduct the original study, the authors randomly assigned 311 participants (53% male) to receive three years of 400 (61 male, 48 female), 4000 (51M, 49F), or 10,000 IU (53M, 49F) daily vitamin D supplementation (see Effect of High-Dose Vitamin D Supplementation on Volumetric Bone Density and Bone Strength below). Study participants, who were aged 55 to 70 years, were healthy and vitamin D‐sufficient (serum 25(OH)D 30 to 125 nmol/L at baseline). The study reported a negative dose‐response relationship for vitamin D and bone density and strength.
The current analysis examined whether the dose-response relationship was different for men and women. Study participants were scanned periodically to assess total volumetric bone mineral density (TtBMD). Bone strength, balance, physical functioning, and certain biochemistry markers were also measured. In the 400 IU/day supplement group, baseline, three‐month, and three‐year levels of 25(OH)D were found to be 76.3, 76.7, and 77.4 nmol/L. In the 4000 IU/day group, the levels were 81.3, 115.3, and 132.2. In the 10,000 IU/day group, the levels were 78.4, 188.0, and 144.4.
Significant interactions between time, vitamin D dosage and sex were found for TtBMD measured at the radius (one of the two large bones of the forearm) and tibia (shinbone). Treatment with either 4000 or 10,000 (but not 400) IU resulted in TtBMD losses in women, but not in men. At the end of the three-year study period, women had lost 1.8% (400 IU group), 3.8% (4000) or 5.5% (10,000) at the radius, while males had lost 0.9% (400), 1.3% (4000) or 1.9% (10,000). The TtBMD losses were smaller at the tibia, but followed a similar pattern. No significant relationships between vitamin D supplementation and bone strength were found. The authors conclude that supplementation with 4000 or 10,000 IU vitamin D results in greater losses of TtBMD over three years compared with 400 IU daily in healthy vitamin D‐sufficient females. The results do not support using high‐dose vitamin D for bone health, and raise the possibility of harm for women, according to the authors.
Selected breast cancer studies