Reishi mushroom inhibits IBC growth, proliferation, and invasion
Posted: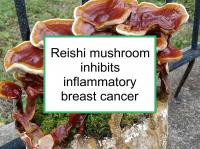 Reishi mushroom inhibits IBC
A new study has reported that
reishi mushroom
(Ganoderma lucidum) reduces
inflammatory breast cancer
(IBC) cell growth and viability without harming normal breast cells. The study was designed to investigate the impact of reishi mushroom on SUM-149 inflammatory breast cancer cell viability, apoptosis, and invasion.
Inflammatory breast cancer is a poorly understood form of aggressive breast cancer. The absence of a palpable tumor mass and the propensity of IBC to invade the lymphatic system contributes to its lethality. Unlike when other types of breast cancer cells become metastatic, IBC cells invade by forming tumor spheroids. Reishi mushroom contains biologically active compounds that have been shown to be cytotoxic against cancer cells.
In the study, reishi was found to selectively inhibit IBC cancer cell viability without affecting the viability of noncancerous breast cells. Reishi was also found to reduce cell invasion and to disrupt the cell spheroids that are characteristic of invasive IBC. Reishi was found to act by causing reductions in the expression of key genes involved in cancer cell survival, proliferation, invasion, and
metastasis
. The authors conclude that the study findings suggest that reishi is an effective anti-IBC treatment.
Selected breast cancer studies
Abstract 5583: Innate immune profile of inflammatory breast cancer patients

Cite

Cohen EN, Gao H, Lee B, Andreopoulou E, Jackson SA, Parker CA,

et al

. Abstract 5583: Innate immune profile of inflammatory breast cancer patients. Clinical Research. American Association for Cancer Research; 2010;

10.1158/1538-7445.am10-5583

Combined effect of green tea and Ganoderma lucidum on invasive behavior of breast cancer cells

Cite

Thyagarajan A, Zhu J, Sliva D. Combined effect of green tea and Ganoderma lucidum on invasive behavior of breast cancer cells. International Journal of Oncology. Spandidos Publications; 2007;

10.3892/ijo.30.4.963

Effect of medicinal botanicals in breast cancer cell lines with different estrogen receptor expression

Cite