Different BC subtypes are prone to metastasize differently
Posted: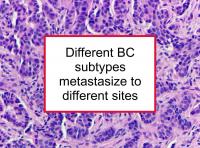 BC subtypes metastasize to different sites
The authors reviewed the hospital medical records for each case and obtained primary tumor tissue samples. A total of 234 of the patients developed distant metastases (in a total of 321 sites) after a median period of 2.7 years after their initial breast cancer diagnoses.
Study findings
The authors found that luminal A tumors tended to metastasize first to the bone, HER2+ tumors to the liver and lungs, and basal-like cancers to the liver and brain. Breast cancer that relapsed to the bone was frequently ER+ and seldom HER2+. Tumors with lung metastases were frequently HER2+ and seldom PR+. Breast cancer with first metastases to the brain were seldom ER+/PR+.
The authors conclude that breast tumor subtypes have a tendency to give rise to first distant metastases at specific body sites. Several primary tumor proteins are associated with the homing of circulating breast tumor cells.
Selected breast cancer studies