Pan frying meat and fish at high temperatures produces carcinogens
Posted: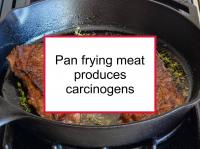 Pan frying meat produces carcinogens
A new study has reported on the heterocyclic amine (HCA) content of
beef
,
chicken
,
pork
, and fish prepared by various cooking methods commonly used in U.S. households. HCAs, which are potent human carcinogens, are produced in meat and fish cooked at high temperatures. The study examined the levels of HCAs in meat and fish prepared by pan frying, oven broiling, and oven baking at 338° to 446°F.
The primary HCAs found in cooked samples were (1) PhIP (2-amino-1-methyl-6-phenylimidazo [4,5-b]pyridine), which was detected at levels ranging from 1.49 to 10.89 ng/g; (2) MeIQx (2-amino-3,8-dimethylimidazo [4,5-f]quinoxaline), detected at 0-4.0 ng/g; and (3) DiMeIQx (2-amino-3,4,8-trimethyl-imidazo [4,5-f]quinoxaline), detected at 0-3.57 ng/g. (17.59 ng/g).
The type and level of HCA content in the food samples tested were found to be highly dependent on cooking conditions. The total HCA content in meat and fish cooked until well done was approximately 3.5 times higher than the levels of the same foods prepared to medium-rare doneness. Fried pork (13.91 ng/g) was found to have higher total HCA levels than fried beef (8.92 ng/g) and fried chicken (7.00 ng/g). Fried
bacon
had the highest total HCA content among the samples tested.
Selected breast cancer studies
Well-done meat intake and meat-derived mutagen exposures in relation to breast cancer risk: the Nashville Breast Health Study

Cite

Fu Z, Deming SL, Fair AM, Shrubsole MJ, Wujcik DM, Shu X,

et al

. Well-done meat intake and meat-derived mutagen exposures in relation to breast cancer risk: the Nashville Breast Health Study. Breast Cancer Research and Treatment. Springer Science and Business Media LLC; 2011; 129:919-928

10.1007/s10549-011-1538-7

Long-term meat intake and risk of breast cancer by oestrogen and progesterone receptor status in a cohort of Swedish women

Cite

Larsson SC, Bergkvist L, Wolk A. Long-term meat intake and risk of breast cancer by oestrogen and progesterone receptor status in a cohort of Swedish women. European Journal of Cancer. Elsevier BV; 2009; 45:3042-3046

10.1016/j.ejca.2009.04.035

Dietary Exposure to Heterocyclic Amines in a Chinese Population

Cite

Wong K, Su J, Knize MG, Koh W, Seow A. Dietary Exposure to Heterocyclic Amines in a Chinese Population. Nutrition and Cancer. Informa UK Limited; 2005; 52:147-155

10.1207/s15327914nc5202_5