Multifocal breast cancer is treated less successfully than unifocal
Posted: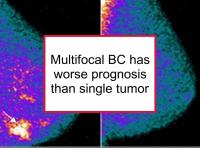 Multifocal BC has worse prognosis
Multifocal breast cancer is associated with lower survival
A number of studies have reported that multifocal breast cancer is associated with increased local (in the breast) and distant recurrence and reduced survival compared to similar unifocal (breast cancer with only one tumor) disease. For example, one study of 574 women with breast cancer reported that the 10-year breast cancer-specific survival was 90% for those with unifocal invasive disease compared to 76% for those with multifocal invasive disease.
Breast conserving surgery for multifocal breast cancer
Latest research finds somewhat worse survival for multifocal breast cancer
The study referenced at the beginning of this news article was designed to compare survival outcomes of multifocal and unifocal breast cancer patients who underwent breast conserving therapy. To conduct the study, the authors used prospective data concerning women with invasive breast cancer who were treated with lumpectomy or partial mastectomy plus whole breast irradiation between 1991 and 2009.
Multifocal breast cancer was defined as two or more distinct tumors removed in a single operation. The study included 164 patients with multifocal and 999 with unifocal invasive breast cancer who were followed for a median of 112 months. The women with multifocal disease were compared to those with unifocal breast cancer with respect to demographics, tumor characteristics, systemic treatment after surgery, local recurrence, disease-free survival, and overall survival.
Women in the multifocal breast cancer group had higher 10-year rates of local recurrence (6.1%) compared with the unifocal group (0.6%). Similarly, women in the multifocal group had lower 10-year breast cancer-free survival (89.3% compared to 97.7%) and overall survival (85.8% compared to 98.4%) rates. The authors conclude that breast conserving therapy in multifocal breast cancer is oncologically safe but might result in slightly inferior outcome compared with breast conserving therapy in unifocal breast cancer.
Selected breast cancer studies