Lumpectomy vs. mastectomy rates vary by type of breast cancer
Posted: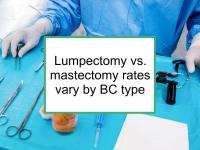 Lumpectomy/ mastectomy rates vary by BC type
A new study has reported that
lobular breast cancer
has the highest rate of
mastectomy
whereas tubular breast cancer has the lowest rate compared to
ductal breast cancer
. Breast conserving treatment consists of breast conserving surgery such as
lumpectomy
or partial mastectomy, typically followed by radiotherapy.
Although trends in the use of breast conserving treatment for ductal breast cancer have been studied, there is little data concerning rarer types of breast cancer. To conduct the study, the authors used the Surveillance, Epidemiology and End Results (SEER) database to identify 338,682 breast cancer patients with early stage (T1 or T2 (≤ 5 cm)) ductal, lobular, tubular,
mucinous
, medullary, or papillary carcinoma of the breast who were diagnosed between 1998 and 2008.
Sixty percent of the overall study population underwent breast conserving treatment. The overall rate of breast conserving treatment remained relatively flat from 1998 to 2008. However, the proportion varied according to type of breast cancer, from 50% for lobular to 79% for tubular. Tubular breast cancer cases had the lowest likelihood of positive lymph nodes (6%), followed by mucinous breast cancer (8%). Radiation treatment was administered to 72% of the study population overall; it was least often given in cases of papillary breast cancer (58%). Tubular and medullary breast cancer cases were approximately twice as likely to receive breast conserving therapy as ductal breast cancer cases.
The authors conclude that patients with uncommon breast cancer types show wide variation in the application of breast conserving treatment. This suggests that an individualized approach in the use of breast conserving treatment depending on histology should be used.
Selected breast cancer studies