Lobular breast cancer prognosis
Last updated: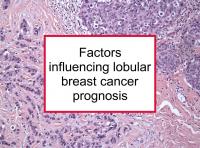 Factors influencing lobular breast cancer prognosis
Lobular breast cancer
is more likely to be
multifocal
(more than one tumor per breast), bilateral (diagnosed in both breasts at the same time), and both estrogen receptor-positive and progesterone receptor-positive (
ER+/PR+
) than
ductal breast cancer
, the most common type. Lobular breast cancer is also more likely to have a hereditary component.
Palpable lobular tumors (i.e., those that can be felt by hand even if only as a firmer area) are associated with higher tumor grade and worse overall survival than nonpalpable lobular tumors.
Women with lobular carcinoma in situ (
LCIS
), also known as lobular neoplasia, are at higher than average risk for invasive breast cancer, but the risk is higher for developing ductal as well as lobular breast cancer. One study found that the seven-year cumulative invasive breast cancer incidence was 9.9% after an initial diagnosis of atypical hyperplasia or LCIS. A 2020 study reported that 7.8% of women with atypical hyperplasia and 5.7% of women with LCIS developed invasive breast cancer during the first ten years after diagnosis. Efforts to predict which LCIS patients will progress to invasive breast cancer have so far been unsuccessful.
Use of hormone replacement therapy (
HRT
), or menopausal hormone therapy, containing both estrogen and
progestin
has been shown to increase the risk of invasive lobular breast cancer. Being overweight also increases the risk of lobular breast cancer and recurrence after menopause. Although still rare, women with lobular breast cancer are more likely to get
ovarian
and gastric (stomach) metastases than those with other types of breast cancer. While lobular breast cancer may have indolent, non-aggressive characteristics compared to ductal breast cancer and other types, both the primary tumor in the breast and distant metastases can be difficult to detect. As a result, long-term prognosis is not superior to that of ductal breast cancer.
Lymph node micrometastases in lobular breast cancer
As is the case for other types of breast cancer, lobular breast cancer patients with positive lymph nodes have worse prognosis than those with clear lymph nodes. However, the significance of lymph node
micrometastases
appears to differ.
Micrometastases include metastases of 2 mm or less, tiny cell clusters, and isolated tumor cells. Generally speaking, micrometastases in lymph nodes have not been found to significantly influence breast cancer prognosis. For example, one study found that undetected micrometastases influence prognosis in patients with sentinel lymph nodes that are initially classified as negative, but the magnitude of the difference in outcome at five years was only 1.2%. Since identifying such micrometastases requires more intensified pathological assessment of lymph nodes, these study findings could result in less use of techniques to find micrometastases (metastases which would otherwise remain occult or undetected). However, because of the diffuse nature of lobular breast cancer, lymph node metastases are more likely to be micrometastases than in ductal breast cancer. Forgoing pathological techniques that could find otherwise undetectible micrometastases in lobular breast cancer cases might cause some tumors to be incorrectly staged.
Multifocal and contralateral tumors
As noted above, lobular breast cancer is more likely to be
multifocal
or multicentric (more than one tumor per breast) and bilateral (diagnosed in both breasts) than other breast cancer types. While five-year survival rates are similar, ten-year survival rates are lower for multifocal breast cancer. In addition, five-year survival rates are lower for women with contralateral breast cancer compared to those with tumors only in one breast. This appears to be because bilateral breast tumors tend to have more aggressive characteristics. Lobular breast cancer patients should receive MRIs of both breasts before surgery to identify all tumors. The higher possibility of undetected lesions in lobular breast cancer argues for systemic treatment in addition to
lumpectomy
and radiotherapy even for relatively small lobular tumors.
Other factors associated with recurrence
One large Swedish study, which followed women with lobular breast cancer for over 20 years, reported that positive
lymph node status
, high proliferation (defined as
Ki-67
≥ 30%), and significant
tumor size
(≥ 20 mm) each were associated with recurrence. Triple negative (
ER-/PR-/HER2-
) lobular breast cancer has relatively poor prognosis. On the other hand, one study reported that lobular breast cancer patients with clear lymph nodes, low proliferation and small tumor size had favorable long-term outcomes, with a breast cancer mortality rate of 12% after 20 years.
Lobular breast cancer survival rates
In this section, we summarize available data published during the last two years concerning risk of recurrence for early stage invasive lobular breast cancer. However, please note that outcomes can vary greatly depending on numerous factors, including those described above, as well as diet and other lifestyle choices. Also, the data below represents snapshots from studies that were conducted using different populations under a variety of circumstances. Therefore, the numbers are somewhat inconsistent and far from definitive and should not be used to calculate your likely recurrence-free survival. However, the data is useful in getting a general idea of lobular breast cancer prognosis and to compare outcomes depending on treatment and other factors.
Patient and treatment characteristics → Likelihood of progression-free survival
Progression-free survival means that no recurrence, metastasis or breast cancer-related death took place during the specified period. Overall survival indicates that no death occurred from any cause (including non-breast cancer-specific causes).
Overall
Five-year overall survival → 83%
Ten-year overall survival → 65%
Fifteen-year overall survival → 50%
Receptor status
ER+/PR+: Five-year progression-free survival → 92%
ER-/PR-/HER2-: Five-year progression-free survival → 47%
Stage T1-2
Lumpectomy: Five-year progression-free survival → 92%
Lymph node positive
Stage T1-4, N1-3, neoadjuvant chemotherapy: Ten-year overall survival → 54%
Stage T1-4, N1-3, adjuvant chemotherapy: Ten-year overall survival → 65%
Selected breast cancer studies