Lobular breast cancer prognosis
Last updated: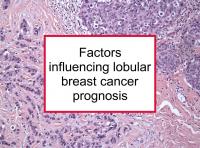 Factors influencing lobular breast cancer prognosis
Lobular breast cancer is also more likely to have a hereditary component. Palpable lobular tumors (i.e., those that can be felt by hand even if only as a firmer area) are associated with higher tumor grade and worse overall survival than nonpalpable lobular tumors.
Lymph node micrometastases in lobular breast cancer
Micrometastases include metastases of 2 mm or less, tiny cell clusters, and isolated tumor cells. Generally speaking, micrometastases in lymph nodes have not been found to significantly influence breast cancer prognosis. For example, one study found that undetected micrometastases influence prognosis in patients with sentinel lymph nodes that are initially classified as negative, but the magnitude of the difference in outcome at five years was only 1.2%. Since identifying such micrometastases requires more intensified pathological assessment of lymph nodes, these study findings could result in less use of techniques to find micrometastases (metastases which would otherwise remain occult or undetected). However, because of the diffuse nature of lobular breast cancer, lymph node metastases are more likely to be micrometastases than in ductal breast cancer. Forgoing pathological techniques that could find otherwise undetectible micrometastases in lobular breast cancer cases might cause some tumors to be incorrectly staged.
Multifocal and contralateral tumors
Other factors associated with recurrence
Selected breast cancer studies