Metformin improves survival of diabetic women with HER2+ BC
Posted: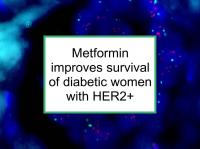 Metformin improves HER2+ survival
Note that safety issues have been raised with respect to the thiazolidinediones (Avandia, Actos, Rezulin) and they have either been withdrawn from the U.S. market or are not used for most patients.
Study design and findings
To conduct the study, the authors reviewed the records of 1,983 consecutive patients with HER2+ breast cancer diagnosed between January 1, 1998 and September 30, 2010. Data was collected and analyzed with respect to age, body mass index (BMI), ethnicity, menopausal status, nuclear grade, tumor stage, estrogen (ER) and progesterone receptor (PR) status, as well as overall survival, breast cancer-specific survival, and types of antidiabetic drugs used.
Type 2 diabetes was found to be associated with poor survival of women with stage 2 or higher HER2+ breast cancer. The use of metformin and the use of thiazolidinediones were both associated with lengthened survival. When the analysis was restricted to those with diabetes, metformin was found to be associated with approximately double the likelihood of survival compared to no metformin or thiazolidinedione use.
Metformin use was also associated with a similar decrease in risk of breast cancer-specific death. The authors conclude that thiazolidinediones and metformin users have better clinical outcomes than nonusers in diabetics with stage 2 or higher HER2+ breast cancer. The choice of antidiabetic medications may influence the prognosis of this group.
Comments regarding the study
Selected breast cancer studies