Lymph node negative ER-/PR- BC has less favorable prognosis
Posted: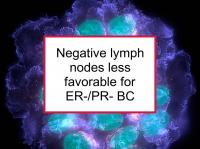 Negative lymph nodes less favorable for ER-/PR-
The ACOSOG Z0010 Trial
All of the women underwent sentinel lymph node dissection (in which the first lymph node or nodes to which cancer is likely to spread from the primary tumor are removed for biopsy). Systemic therapy was administered as appropriate.
Lymph node status and outcomes of trial participants
A total of 3,904 (76%) of the 5,119 participants had negative sentinel lymph nodes. The women had a median age of 57 years (range: 23 to 95) and were followed for a median of 8.4 years. There were 127 local (in the breast), 20 regional (chest wall or lymph nodes), and 134 distant recurrences during follow up.
Hormone receptor status, tumor size and age influence prognosis
Local recurrence was also found to be associated with reduced overall survival over time. This is consistent with previous reports that locoregional recurrence increases the risk of subsequent breast cancer events and death, particularly in patients with ER-/PR- disease. The authors conclude that locoregional recurrences are rare in early stage breast cancer patients with negative sentinel lymph nodes. Younger age and ER-/PR- disease are associated with higher relapse rates, and local recurrence is associated with lower overall survival.
Selected breast cancer studies