Intense hot flashes at menopause linked to lower breast cancer risk
Posted: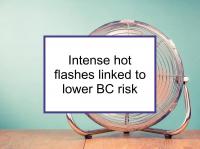 Intense hot flashes linked to lower BC risk
A new study has reported that women who experience symptoms such as hot flashes at menopause have a lower risk of breast cancer than women who do not experience menopausal symptoms. Previous studies have reported that women with menopausal symptoms have lower estrogen levels as a result of going through menopause compared with women who do not.
Given the central role of hormones in the development of breast cancer, a link between menopausal symptoms such as hot flashes and breast cancer risk is plausible. The study included 1,437 postmenopausal Seattle-area women, of whom 988 had previously been diagnosed with breast cancer and 449 served as cancer-free controls. The women were surveyed about perimenopausal and menopausal symptoms, including hot flashes, night sweats, vaginal dryness, irregular or heavy menstrual bleeding, insomnia, depression and anxiety.
The associations between these symptoms and risks of different
histologic types
of breast cancer among postmenopausal women were examined.
Women who experienced menopausal symptoms were found to have a 50% lower risk of both
ductal
and
lobular
breast cancer than women who experienced no symptoms. The association between such symptoms and decreased cancer risk held even after accounting for other factors known to boost breast cancer risk, such as use of hormone replacement therapy (
HRT
),
obesity
and age at menopause.
The greater the intensity of hot flashes, the lower the risk of breast cancer. In a separate interview, senior author Christopher I. Li, a breast cancer epidemiologist in the Hutchinson Center's Public Health Sciences Division, said that "women who experienced more intense hot flushes - the kind that woke them up at night - had a particularly low risk of breast cancer."
Selected breast cancer studies