High circulating insulin increases HER2+ tumor size and metastases
Posted: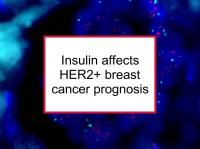 Insulin affects HER2+ breast cancer prognosis
Latest research finds insulin promotes HER2+ tumor size and aggressiveness
The study referenced at the beginning of this news story was designed to investigate how elevated circulating insulin levels influence tumor growth and metastasis in a mouse model of HER2+ breast cancer. To conduct the study, the authors crossed hyperinsulinemic (MKR+/+) mice with NeuNT (MTB/TAN) mice to produce MTB/TAN/MKR+/+ mice. These MTB/TAN/MKR+/+ mice and a group of MTB/TAN mice that served as controls mice were administered doxycycline (an agent known to induce NeuNT mammary tumor (HER2+) formation). Tumor tissues were removed and examined at two, four and six weeks after tumor initiation.
The MTB/TAN/MKR+/+ mice developed greater tumor mass than the controls, and this was associated with higher phosphorylation of the insulin receptor (IR)/insulin-like growth factor receptor 1 (IGF-1R). This finding indicates that activation of these receptors in the presence of excess circulating insulin could promote growth of mammary tumors. After 12 weeks, although no further additional tumor weight was seen in the MTB/TAN/MKR+/+ mice, the number of lung metastases (16.41 on average) was significantly higher in MTB/TAN/MKR+/+ mice compared to controls (5.36). The authors conclude that high circulating insulin in MTB/TAN/MKR+/+ mice resulted in larger, more aggressive mammary tumors, with more numerous lung metastases.
Selected breast cancer studies