EGFR inhibition reduces resistance to tamoxifen treatment
Posted: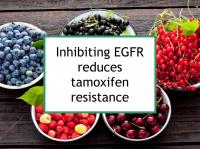 Inhibiting EGFR reduces tamoxifen resistance
Foods that help inhibit EGFR
The following foods or their major micronutrients have been found to inhibit EGFR, as well as having been shown to reduce the risk of breast cancer in general:
Latest research shows how EGFR promotes tamoxifen resistance
The study referenced above was designed to investigate how breast cancer cells become tamoxifen resistant. Previous research has demonstrated that the epithelial‑to-mesenchymal transition (EMT) process has a role in the development of breast cancer drug resistance. EMT is a crucial event in the tumor invasion process. An EMT enables an epithelial cell to undergo a variety of changes that empowers it to assume a mesenchymal cell phenotype, thereby acquiring enhanced migratory capacity and invasiveness, as well as elevated resistance to apoptosis (programmed cell death). However, until now, the central molecules inducing the EMT process during the progression to tamoxifen resistance have not been well described.
The authors conclude that EGFR might be a promising target for the treatment of tamoxifen‑resistant breast cancer and that gefitinib has the potential to serve as an effective therapy.
Selected breast cancer studies