EGFR expression associated with worse BC prognosis
Posted: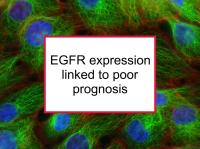 EGFR expression linked to poor prognosis
In the study, EGFR expression was found to be independently associated with reduced disease-free survival and reduced overall survival. The authors conclude that blocking EGFR may improve outcome in some breast cancer patients.
Strategy for those with EGFR-positive breast cancer
Activation of the receptor with epidermal growth factor promotes proliferation and migration of tumor cells, thus facilitating the spread of cancer.
Selected breast cancer studies