Artichoke compound silibinin promotes ER+/PR+ BC cell death
Posted: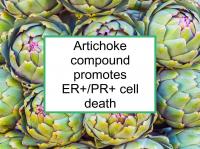 Artichoke promotes ER+/PR+ death
Milk thistle extract and silymarin supplements are not recommended
Latest research finds silibinin causes cell death by downregulating ERα
The study referenced at the beginning of this news story was designed to investigate how silibinin induces programmed cell death (apoptosis) in hormone receptor positive MCF-7 breast cancer cells. There are two types of estrogen receptors: estrogen receptor alpha (ERα) and estrogen receptor beta (ERβ). Some compounds that bind to ERα do not bind to ERβ and vice versa. Both types of estrogen receptor are therapeutic targets in breast cancer. Activation of ERα can trigger a series of downstream signaling pathways. Previous studies have reported that silibinin induces apoptosis in MCF-7 cells. In the current study, the authors show that silibinin leads to MCF-7 cell death through the downregulation of ERα expression.
Caspases are enzymes involved in the initiation and execution of apoptosis. Silibinin was found to cause apoptosis of MCF-7 cells by means of upregulation of caspase 6 to ERα. Silibinin also upregulated autophagy (a type of cell self-digestion), which served to increase apoptosis. The authors showed that silibinin inhibited the expressions of Akt/mTOR (which accounted for the induction of autophagy) and extracellular-signal-related kinase (ERK) (which accounted for the induction of apoptosis). Co-treatment with an ERα inhibitor heightened these effects. The authors conclude that treatment of ERα-positive MCF-7 cells with silibinin downregulates the expression of ERα, leading to induction of autophagy and apoptosis.
Selected breast cancer studies