Male breast cancer risk, treatment and prognosis
Last updated: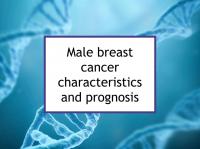 Male breast cancer characteristics and prognosis
The breast cancer risk in men with BRCA2 mutations is 7.1% by age 70 and 8.4% by age 80 years, according to one study. Men with BRCA1 mutations also have a higher risk of breast cancer than the general population. Use of the heart medication digoxin (digitalis) has been found to increase risk of breast cancer in men.
Male breast cancer characteristics
Male breast cancer treatment
One 2020 study reported that use of chemotherapy was associated with improved survival among men with progesterone receptor negative (PR-) breast cancer. Among men with PR+ breast cancer, only those with stage II or stage III disease saw significantly better outcomes associated with chemotherapy.
Male breast cancer prognosis
Selected breast cancer studies