Side effects of anti-estrogens can indicate treatment is working
Posted: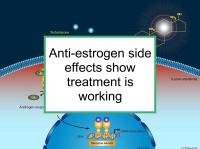 Anti-estrogen side effects show treatment is working
Since the growth of ER+ breast cancer is promoted by estrogen, decreasing the availability estrogen should suppress recurrence. In fact, women who complete their anti-estrogen treatments have been found to have better recurrence and survival profiles than women who do not.
Latest research links certain side effects to better survival outcomes
The study referenced at the beginning of this news story was designed to investigate the relationship between specific endocrine treatment side effects (vasomotor, musculoskeletal, and vulvovaginal symptoms) and survival in postmenopausal breast cancer patients. The study included 9,325 women in the international Tamoxifen Exemestane Adjuvant Multinational (TEAM) trial. Data was collected regarding vasomotor symptoms, musculoskeletal adverse events, and vulvovaginal symptoms arising during the first year of endocrine treatment, as well as disease-free survival, overall survival, and distant metastases. Women who never started their endocrine treatment, discontinued treatment, or had a breast cancer recurrence or died within the first year were excluded from the study. Survival differences were assessed up to five years from the beginning of endocrine treatment.
Selected breast cancer studies