Low white blood cell count may indicate chemotherapy is working
Posted: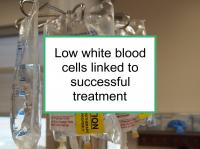 Low white blood cells and treatment
A new Chinese study has reported that women who develop a low white blood cell count (neutropenia) as a result of chemotherapy have better survival outcomes than women who do not. Apparently, chemotherapy-induced neutropenia (which is characterized by a decrease in circulating neutrophils) is a marker of treatment effectiveness.
Neutropenia is one of the most important short-term side effects of chemotherapy and is often the reason for chemotherapy dose reduction. To conduct the study, the authors reviewed data from 335 early breast cancer patients in their hospital. All of the women had been treated with six cycles of CEF (
cyclophosphamide
(Cytoxan),
epirubicin
(Ellence, an
anthracycline
), and fluorouracil (
5-FU
)).
The association between chemotherapy-induced neutropenia and overall survival was assessed by the authors. Women with mild or severe neutropenia were significantly less likely to die during the study period than those without neutropenia.
The authors conclude that neutropenia occurring in early breast cancer patients is an independent predictor of increased survival; neutropenia in patients who receive chemotherapy is strongly associated with a better prognosis.
Selected breast cancer studies
Hematologic toxicity with adjuvant docetaxel and cyclophosphamide in early breast cancer.

Cite

Santos FN, Cruz MR, Cezana L, Costa LA, de Azevedo CA, De Barros E Silva MJ,

et al

. Hematologic toxicity with adjuvant docetaxel and cyclophosphamide in early breast cancer.. Journal of Clinical Oncology. American Society of Clinical Oncology (ASCO); 2010; 28:e11081-e11081

10.1200/jco.2010.28.15_suppl.e11081

Prognostic Significance of Neutropenia on Day One of Anthracycline-Based Neoadjuvant Chemotherapy in Operable Breast Cancer

Cite

Ishitobi M, Komoike Y, Motomura K, Koyama H, Inaji H. Prognostic Significance of Neutropenia on Day One of Anthracycline-Based Neoadjuvant Chemotherapy in Operable Breast Cancer. Oncology. S. Karger AG; 2010; 78:213-219

10.1159/000313702

Moderate neutropenia with adjuvant CMF confers improved survival in early breast cancer

Cite

Cameron DA, Massie C, Kerr G, Leonard RCF. Moderate neutropenia with adjuvant CMF confers improved survival in early breast cancer. British Journal of Cancer. Springer Science and Business Media LLC; 2003; 89:1837-1842

10.1038/sj.bjc.6601366