Green tea can prevent BC caused by long-term exposure to carcinogens
Posted: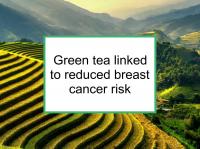 Green tea linked to reduced BC risk
In conducting previous research, the authors developed a cellular model to represent breast cell carcinogenesis that is induced by cumulative exposures to low levels of environmental carcinogens. This chronic carcinogenesis model was used in the present study to investigate the activity of green tea flavonoid extract.
The authors also determined that the green tea extract acted by modifying carcinogen-induced increases in cell proliferation, DNA damage, alterations in gene expression and other changes known to contribute to cancer development.
Selected breast cancer studies