Calycosin in astragalus root (huang qi) promotes ER+ proliferation
Posted: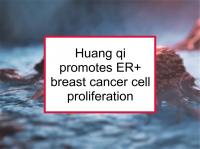 Huang qi promotes ER+ proliferation
A new study has reported that calycosin stimulates the proliferation of hormone receptor positive (
ER+/PR+
) breast cancer cells at relatively low concentrations because of its estrogenic properties. Calycosin is a biologically active component of astragalus root (
Radix Astragali
— also known as huang qi), a herb which is used for a variety of purposes, including strengthening the immune system.
Some practitioners have suggested its use during chemotherapy. Calycosin's effects can be either estrogenic or antiestrogenic, depending on concentration.
To conduct the study, ER+ MCF-7 breast cancer cells were treated with different concentrations of calycosin. Cell proliferation, apoptosis (programmed cell death), and other cancer-specific variables were measured. In addition to the cancer cell studies, the authors conducted a study using mice with their ovaries removed to assess the influence of calycosin on ER expression in the body.
Compared with cells not treated with calycosin, low concentrations of calycosin (2-8 μM) were found to stimulate the proliferation of MCF-7 cells and decrease the percentage of early cell death. Calycosin inhibited cell proliferation at higher concentrations (16 and 32 μmol/L). In the mouse study, calycosin was found to stimulate a dramatic increase in uterine weight (which indicates estrogenic activity). The authors conclude that the study results show that calycosin has stimulatory effects on the proliferation of MCF-7 cells at relatively low concentrations, apparently due to an estrogenic effect.
Selected breast cancer studies