Even low phthalate exposure can increase BC cell proliferation
Posted: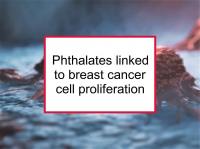 Phthalates linked to breast cancer proliferation
Phthalates
are chemicals commonly used to make plastics more pliable and as additives in
personal care products
. Food packaging, body lotions, and face creams are the main sources of exposure. Phthalates are
endocrine disruptors
with estrogenic effects, but can also induce
proliferation
and invasiveness of hormone receptor negative (ER-) breast cancer cells independent of any estrogenic effect.
Women with breast cancer had higher phthalate levels than cancer-free controls in one study. Although research concerning phthalates have produced concerning results, most of the studies have been conducted at relatively high doses to which human beings would normally not be exposed.
Average exposures among U.S. consumers are below unsafe levels, according to the Environmental Protection Agency (EPA). However, note that European regulations are stricter with regard to phthalate exposure and consumers there enjoy a higher level of protection. In addition, there is very little data on the effects of chronic phthalate exposure or the combination of phthalates with other endocrine disruptors or carcinogens. Now a new study has reported that even low level exposure to phthalates can increase hormone receptor positive (
ER+/PR+
) breast cancer proliferation.
Latest research finds very low levels of phthalates can be harmful
The study referenced at the beginning of this news story was designed to examine the influence of phthalates on the growth of hormone receptor positive MCF-7 breast cancer cells. To conduct the study, the authors treated MCF-7 cells with butyl benzyl phthalate (BBP), di(n-butyl) phthalate (DBP), and di(20ethylhexyl) phthalate (DEHP) at various concentrations for periods ranging from 24 hours to 92 hours. The cells were then harvested for analysis, including assessing the levels of proteins involved proliferative and apoptotic (programmed cell death) pathways.
Treatment levels greater than 10−5 M for DEHP and 10−4 M for both BBP and DBP were toxic for the breast cancer cells. However, cell proliferation was found to be significantly increased at the far lower levels of 10−8 to 10−5 M for BBP and DBP, and 10−8 to 10−6 M for DEHP. This was accompanied by changes in proliferating cell nuclear antigen and other proteins involved in apoptosis and proliferation. In addition, estrogen receptor alpha expression was notably increased by treatment with BBP, DBP, and DEHP. The authors conclude that BBP, DBP, and DEHP are capable of inducing a proliferative effect even at a very low concentrations. In addition, these phthalates also demonstrate estrogenic activity. Therefore, the current guidelines regarding phthalate exposure defined by the government should be further evaluated, according to the authors.
Please see our articles on phthalates and bisphenol A for more information on endocrine disruptors and breast cancer.
Selected breast cancer studies