Cadmium reduces effectiveness of 5-FU chemotherapy in ER+/PR+ cells
Posted: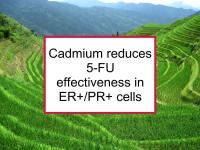 Cadmium reduces 5-FU effectiveness in ER+/PR+
Sources of cadmium exposure
Non-dietary sources of cadmium exposure
Dietary sources of cadmium exposure
Diet is the primary source of cadmium exposure for most U.S. women. Both developed and less developed countries have problems with cadmium contamination of coastal waters, leading to potentially high levels in shellfish. In addition, there are large areas of some countries, including the U.S., Canada and China, in which significant levels of cadmium are found naturally in the soil. Certain plants take up and incorporate cadmium more readily than others. Included are rice and other cereal grains, flaxseed, potatoes, sunflowers, peanuts, spinach and other leafy vegetables, and tobacco. Generally speaking, cooking is not effective as a means of reducing cadmium concentrations in food.
If one of the foods you enjoy is on the list above, make every attempt to find a low-cadmium source. For example, free range snails should be grown on a farm that is several miles away from any industrial plant or waste facility and away from any but the smallest, low-traffic roads. The point is to avoid inadvertent, ongoing consumption of cadmium in a favorite food or dish. Those growing their own vegetables should avoid using roadside plots.
Latest research finds cadmium blocks 5-FU treatment effects
Selected breast cancer studies