Aromatase inhibitors have many potential side effects
Posted: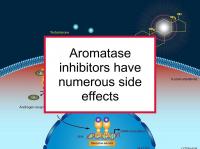 Aromatase inhibitors have side effects
Musculoskeletal symptoms are a well-known side effect of aromatase inhibitors, but other side effects are less well described. The study included 100 breast cancer patients just about to start aromatase inhibitor treatment and 200 cancer-free controls. Questionnaires were used to collect data concerning symptoms and their frequency at the outset of the study (baseline), after three months, and after six months (at which point the study ended).
The authors conclude that aromatase inhibitor treatment results in an extreme estrogen-deficient state which is associated with the onset of a number of symptoms that occur far more frequently compared to similar women without a history of cancer. These symptoms may impact adherence to aromatase inhibitor treatment.
Selected breast cancer studies