Quercetin supplementation may promote breast cancer
Posted: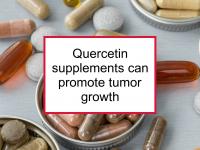 Quercetin supplements can promote tumor growth
A new study has reported that the phytoestrogen
quercetin
may contribute to the growth of estrogen-induced breast tumors once the tumors are established. Phytoestrogens such as quercetin are structurally similar to the estrogen 17β-estradiol (
E2
) which occurs naturally in the human body.
Despite great interest in the topic and numerous studies, the net effect of phytoestrogen exposure on the breast remains unclear. In the study, female ACI rats were divided into three groups. One group was given supplementary quercetin as part of their diets (2.5 g/kg food) for eight months as well as being implanted with E2 pellets (which reliably produce a high incidence of mammary tumors in ACI rats). A second group was given the quercetin diet but not exposed to E2. A third group was implanted with E2 pellets, but did not receive quercetin.
Quercetin did not protect rats implanted with E2 pellets from mammary tumor development — 100% of the animals in the E2 group developed tumors within the eight-month treatment period. Quercetin alone was not found to cause mammary tumor development in the rats. However, the time it took for palpable tumors to appear was shorter among rats in the quercetin plus E2 group compared to the E2 only group. Additional testing found that quercetin might serve to increase exposure of breast cells to E2 and related oxidant stress. Overall, the study results indicate that quercetin does not provide protection against breast cancer, does not inhibit E2-induced oxidative stress, and may worsen breast carcinogenesis in E2-treated ACI rats.
Please see our article on how to optimize your breast cancer diet for information on what to eat during all stages of treatment and recovery.
Selected breast cancer studies