Lumpectomy plus radiation as effective as mastectomy for many
Posted: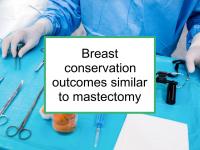 Breast conservation similar to mastectomy
Breast conserving treatment is appropriate for small, well-defined tumors
Breast conserving treatment is most appropriate for women with small, single early stage tumors that are easy to visualize with mammography or breast MRI. Small tumors are more easy to remove completely than large tumors. Perhaps counterintuitively, the aggressiveness of the disease is not the next most important factor in deciding whether lumpectomy is appropriate. For example, triple negative tumors, which are considered aggressive, typically form discrete tumors that are relatively easy to visualize radiologically.
Radiation treatment is an essential part of breast conserving treatment
Latest research finds similar long-term outcomes for lumpectomy and mastectomy
Compared with breast conserving treatment, mastectomy resulted in fewer local recurrences (within the same breast as the original tumor), but overall survival and time to distant metastasis were comparable. A total of 175 patients (42%) in the mastectomy group developed distant metastases during follow-up compared to 207 (46%) in the breast conserving group. There was no significant difference between the breast conserving group and mastectomy group for time to distant metastases or for time to death. The cumulative incidence of distant metastases at 20 years was 42.6% in the mastectomy group compared to 46.9% in the breast conserving group (the difference between the two groups was not statistically significant). Twenty-year overall survival was estimated to be 44.5% in the mastectomy group and 39.1% in the breast conserving group. When the analysis was performed according to age at diagnosis, no difference between the groups in time to distant metastases or overall survival was found for women diagnoses before age 50 compared to women 50 and older.
The authors conclude that offering breast conserving treatment as standard care to patients with early breast cancer appears to be justified, based on similar long-term survival compared to mastectomy.
Selected breast cancer studies