Luminal BC prognosis can vary based on other tumor characteristics
Posted: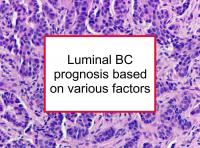 Luminal BC prognosis varies
Ductal breast cancer develops in the milk ducts of the breasts, lobular breast cancer forms in the cells that line the milk-producing glands, cribriform breast cancer invades the connective tissues between the ducts and lobules with a Swiss cheese-like pattern, in mucinous breast cancer the tumor cells are poorly defined and produce mucus, and tubular tumor cells have a tubular structure when viewed under the microscope.
Women with cribriform or tubular tumors had approximately half the five-year risk of breast cancer recurrence as those with pure ductal breast cancer. Those with mucinous tumors had similar breast cancer-free survival as those with ductal breast cancer. On the other hand, women with lobular breast cancer were somewhat more likely to experience a recurrence than those with ductal breast cancer. The authors conclude that tubular, cribriform and lobular carcinomas have different prognostic implications.
Selected breast cancer studies