Delay in chemotherapy before surgery linked to reduced survival
Posted: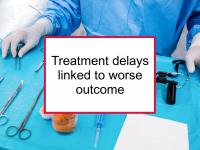 Treatment delays linked to worse outcome
Why delay in neoadjuvant chemotherapy matters
Another possible explanation for worse outcomes associated with treatment delays is the potential for needle track seeding. Needle track seeding occurs when breast cancer cells are deposited along the path of a biopsy needle as it is withdrawn from the breast. Evidence suggests that such seeding does occur 20% to 50% of the time. However, most breast cancer cells moved by biopsy needles do not survive — studies that have examined the question as to whether such seeding influences survival have been reassuring. However, even if unlikely, the potential for needle track seeding is another reason that treatment should occur in a timely manner after biopsy.
Latest research links delay to increased risk of death
The study referenced above was designed to investigate whether time between diagnosis and beginning of neoadjuvant chemotherapy is associated with survival. Women selected to undergo neoadjuvant chemotherapy normally have breast cancer with high-risk features, a fact that the authors took into account in performing the analysis. The study included 5,137 patients treated for invasive primary breast cancer (stage I–III) with neoadjuvant chemotherapy at MD Anderson Cancer Center between 1995 and 2015. The women were divided into three groups according to days from breast cancer diagnosis to neoadjuvant chemotherapy: 0 to 30, 31 to 60, and at least 61 days. Participants were followed for a median of 6.9 years.
The five-year overall survival was 87% for those who started neoadjuvant chemotherapy within 30 days, 85% for 31 to 60 days, and 83% for more than 60 days after diagnosis. Further analysis showed that the association between delay in neoadjuvant chemotherapy and increased risk of death was statistically significant for patients with stage I or stage II breast cancer (but not stage III), and among patients with HER2+ tumors. The authors conclude that a delay in neoadjuvant chemotherapy of more than 60 days after breast cancer diagnosis is associated with increased risk of death. Early initiation of neoadjuvant chemotherapy should be a priority, according to the authors.
Selected breast cancer studies