Breast cancer in old age
Last updated: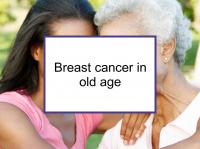 Breast cancer in old age has a different profile from breast cancer in middle age and treatment tends to be different also. We define "old age" for purposes of this article as over 70 (with apologies to the young old who do not view themselves as elderly, and in fact, may be healthier and more vigorous than many people in their sixties).
Characteristics of breast cancer in older women
Even normal risk women can benefit from continued mammograms after age 75, according to several studies. Women over 75 who were diagnosed with breast cancer based on mammograms that took place more than two to five years since the last mammogram had less favorable breast cancer characteristics and increased rates of breast cancer-specific death compared to women who had been screened within the past two years.
Treatment of breast cancer in older women
Treatment of breast cancer in old women often varies from the standard of care. This makes sense for women who are too ill or frail to benefit from treatment. However, there are troubling reports that old women with low income receive less, whereas elderly married women receive more, of the treatment that would normally be considered appropriate, even taking account ill health and tumor characteristics.
One 2020 European study of women diagnosed with breast cancer at age 89 or older reported that 48% of these patients underwent breast conserving surgery, 37% had a mastectomy, while 15% did not have any surgery. Women diagnosed with early stage disease survived a median of 50 months, whereas those who were found to have stage IV disease at diagnosis survived a median of 14 months. Most of the women did not receive any additional treatment after surgery (14% of this group experienced a relapse). The authors concluded that old women should not be under- or over-treated because of their age; rather they deserve tailored treatment based on their specific circumstances.
In the U.S., while most old women diagnosed with breast cancer will have surgery to remove the tumor if at all possible, radiotherapy is sometimes, and chemotherapy is often, omitted. For the fortunate majority who have very small or slow-growing tumors, such omissions might not reduce life span. On the other hand, an otherwise healthy woman in her seventies (who can expect to live an additional 15 years) who is diagnosed with breast cancer that could easily metastasize within three years might benefit from appropriate radiation and chemotherapy, as would be offered to a middle aged woman.
Selected breast cancer studies