Aromatase inhibitors are less effective in reducing estrogen in women with high BMI
Posted: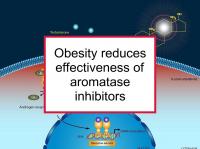 Obesity reduces aromatase inhibitor effectiveness
Aromatase inhibitors appear less effective in women with high BMI
High BMI results in less effective suppression of estrogen production
High BMI was found to be associated with elevated baseline levels of both estradiol and estrone sulfate. Both aromatase inhibitors greatly reduced estrogen levels in obese women, however, the women's estrogen levels remained more than twice those of normal weight women. Levels of circulating estrogen were found to be higher at higher BMI levels under both aromatase inhibitor treatments, although this was statistically significant only for Femara. In fact, suppression of both estradiol and estrone sulfate was greater under Femara across every level of BMI. The authors conclude that the degree of suppression of estrogen in postmenopausal women with early ER+ breast cancer treated with Arimidex and Femara is related to BMI.
Selected breast cancer studies