Tumor proliferation, as measured by Ki-67, predicts BC outcomes
Last updated: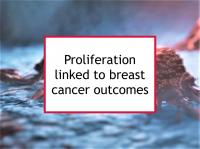 Proliferation linked to breast cancer outcomes
Ki-67 normally can be found on breast cancer pathology reports. While there is some disagreement as to the usefulness of Ki-67 as a prognostic indicator, recent research has clarified the circumstances under which it can provide additional information concerning likely breast cancer outcomes.
High Ki-67 is associated with poor breast cancer prognosis
Generally speaking, Ki-67 levels over 14% to 25% are considered high (depending on breast cancer and biopsy type) whereas levels over 40% are considered very high. High Ki-67 has been linked to unfavorable breast cancer outcomes in numerous breast cancer studies.
Ki-67 provides information beyond that given by other prognostic indicators
Ki-67 can help decide who should receive radiation after mastectomy
High Ki-67 predicts progression of DCIS and LCIS to invasive breast cancer
High Ki-67 can identify ER+ patients that could benefit from chemotherapy
While women with small, lymph node negative, estrogen receptor positive (ER+) tumors generally have a very favorable prognosis, some do relapse. Ki-67 can help determine which of these women might benefit from chemotherapy.
Changes in Ki-67 can measure effectiveness of neoadjuvant treatment
The effectiveness of presurgical systemic treatments can be evaluated by comparing Ki-67 levels before treatment (in the biopsy tissue sample) and after breast cancer surgery.
Selected breast cancer studies