Traditional prognostic factors may not predict recurrence after PCR
Posted: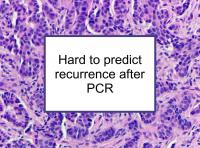 Hard to predict recurrence after PCR
Such chemotherapy offers the opportunity to assess the cancer's response to the treatment by examining the breast tissue that is removed during surgery. A pathological complete response means that there is no microscopic evidence of viable cancer cells in this tissue.
Latest research finds few predictors of breast cancer relapse
The retrospective study referenced at the beginning of this news article was designed to investigate factors associated with recurrence in breast cancer patients with a pathological complete response to neoadjuvant chemotherapy. To conduct the study, the authors reviewed medical records of breast cancer patients who received neoadjuvant chemotherapy between 2000 and 2010 in St. Louis, Missouri.
Women with cancer in both breasts were excluded from the analysis. A total of 812 patients with unilateral breast cancer were followed for a median of 47.2 months. Recurrence was defined as any soft tissue or bony reappearance of cancer after completion of treatment.
The authors conclude that race was the only independent predictor of breast cancer recurrence after achieving pathological complete response to neoadjuvant chemotherapy. They note that the reasons for this finding deserve further study.
Selected breast cancer studies