Risk of DCIS relapse or progression continues at least 20 years
Posted: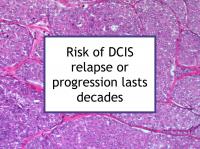 Risk of DCIS relapse or progression lasts decades
Women who are treated for ductal carcinoma in situ (
DCIS
) with breast conserving treatment (
lumpectomy
plus radiotherapy) experience generally favorable outcomes in the short term. DCIS, which is not invasive breast cancer, refers to cancer cells that have formed in milk ducts but are confined there.
Risks that DCIS will recur or progress to invasive breast cancer remain after treatment. There are a number of factors that influence these risks. A new study has reported that significant risk of relapse or progression remains even 20 years after treatment for DCIS patients.
DCIS patients have significant risk of relapse over the long-term
Most studies that have examined outcomes of women treated for DCIS have reported a favorable prognosis. However, the majority of studies have had a follow-up period of under seven years. Studies with longer follow-up have reported higher cumulative rates of DCIS recurrence or progression to invasive breast cancer. One study estimated the 15-year cumulative incidence of ipsilateral (i.e., in the same breast that was treated for DCIS) invasive breast cancer at 19.4% for lumpectomy and 8.9% for lumpectomy followed by radiation treatment.
Latest research reports on DCIS outcomes 20 years after original diagnosis
The study referenced at the beginning of this news article was designed to investigate outcomes for women with DCIS treated with breast conserving therapy (typically, lumpectomy plus radiation). To conduct the study, the authors reviewed 145 DCIS cases treated during the period 1980 to 1993. The women were followed for a median of 19.3 years. Patient demographics and tumor-specific factors were analyzed for influence on outcomes, including ipsilateral breast tumor recurrence and survival.
A total of 25 of the women developed an ipsilateral breast recurrence during follow up. The five-year actuarial recurrence rate was 9.9%. The rate 10-year, 15-year and 20-year rates were 12.2%, 13.7%, and 17.5%, respectively. One third of the ipsilateral breast DCIS relapses were accompanied by invasive breast cancer outside the breast. A majority (68%) of the ipsilateral breast recurrences occurred within 10 years of diagnosis, leaving a substantial minority that were diagnosed after 10 years.
Young age and cancerization of lobules (DCIS which has extended "back" into the lobules) both were predictive of ipsilateral breast recurrence occurring within the first 10 years. Increased slide involvement and atypical ductal hyperplasia were associated with ipsilateral breast tumor recurrence after the 10-year mark.
The authors conclude that women with DCIS who undergo with breast conserving treatment have excellent long-term rates of local control. Predictors of ipsilateral breast tumor recurrence vary over time and the risk of recurrence appears to be highest within the first 10 to 12 years after diagnosis.
Selected breast cancer studies