Reconstruction using fat stem cells could promote TN metastasis
Posted: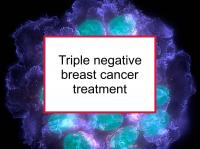 Reconstruction using fat tissue with fat stem cells
Some U.S. breast cancer patients are undergoing an experimental procedure using their own abdominal fat stem cells in breast reconstruction. While the safety of such procedures is being studied in numerous clinical trials in Europe, breast reconstruction using fat stem cells is currently not generally available in the U.S.
Lipofilling is used to correct modest breast defects
The desire to reduce graft resorption has led to a number of strategies to maintain fat volume. These include using enhanced stromal vascular fraction, performing fat grafting with platelet-rich plasma, and enriching the fat graft with fat stem cells before transplantation.
Concerns about the safety of using fat stem cells
Latest research finds fat stem cells can stimulate metastasis
The study referenced at the beginning of this news article was designed to evaluate the impact of adipose tissue-derived stromal/stem cells (fat stem cells) from the abdomens of three healthy women donors in an animal model of triple negative breast cancer. Mice implanted with human MDA-MB-231 triple negative breast cancer cells normally quickly develop tiny metastases in multiple organs.
The authors first demonstrated that indirect and direct co-culture of MDA-MB-231 cells with fat stem cells had no effect on MDA-MB-231 growth. However, both indirect co-culture and adipose tissue-derived stromal/stem cell-conditioned medium stimulated the migration of MDA-MB-231 cells.
In addition, fat stem cells from two of the donors stimulated primary tumor development in mice when co-injected with MDA-MB-231 cells. The fat stem cells from both of these donors also stimulated metastasis. The fat stem cells were shown to be viable and integrated with MDA-MB-231 cells in the primary tumor.
Mice co-injected with MDA-MB-231 cells and fat stem cells developed visible metastases to the lung and liver not seen in mice injected with MDA-MB-231 cells alone.
The authors conclude that fat stem cells derived from the abdomens of two healthy donors stimulated metastasis of MDA-MB-231 breast tumor xenografts to multiple mouse organs.
Selected breast cancer studies