Iron deficiency is linked to metastasis in mouse model of BC
Posted: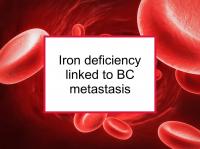 Iron deficiency linked to BC metastasis
Latest research finds iron deficiency promotes metastasis
Mice who were raised on an iron-deficient diet were found to have significantly greater tumor volumes and lung metastases compared to mice given normal diets. Correcting the iron deficiency in the iron-deficient mice (by administering iron) reduced primary tumor volume, lung metastasis, and reversed certain cancer markers in the mice. In young breast cancer patients, mild iron deficiency was found to be significantly associated with lymph node invasion. The authors conclude that iron deficiency might contribute to poor prognosis in young breast cancer patients.
Selected breast cancer studies